(Article in the Edmond Sun on April 10, 2010)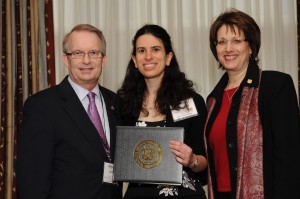 Jennifer Mansour of Edmond was honored with the StAR Studio Teacher Fellowship Award at the March 24 Awards Brunch of the 2010 Music Teachers National Association National Conference in Albuquerque, N.M. She received a $3,000 award, provided by the MTNA Foundation Fund, designed to assist her in establishing, developing and enhancing her music teaching studio.
The Student Achievement Recognition (StAR) Award Program grants free one-year active MTNA memberships to outstanding graduating music students. In addition, these graduates are eligible to enter the MTNA Studio Fellowship Award Program, which helps music teachers develop and enhance their newly established studios.
Mansour, a Nationally Certified Teacher of Music, is a private piano instructor in Edmond and faculty member at Central Community Music School and Henderson Hills Academy of Worship Arts. She has bachelor's degrees in music and piano performance from Southwestern Oklahoma State University, where she graduated summa cum laude and a master's degree in piano performance and pedagogy from the University of Oklahoma, graduating with a 4.0 GPA. While at OU, she was a member of the MTNA Benjamin Whitten Collegiate Chapter of the Year, received the Alice and Albert Kirkpatrick Scholarship in Piano and won the Gail Boyd de Stwolinski Award.
MTNA is a nonprofit organization of nearly 24,000 independent and collegiate music teachers committed to furthering the art of music through teaching, performance, composition and scholarly research. Founded in 1876, MTNA is the oldest professional music teachers' association in the United States.